Pentecost Pilgrimage and the shrine of Csíksomlyó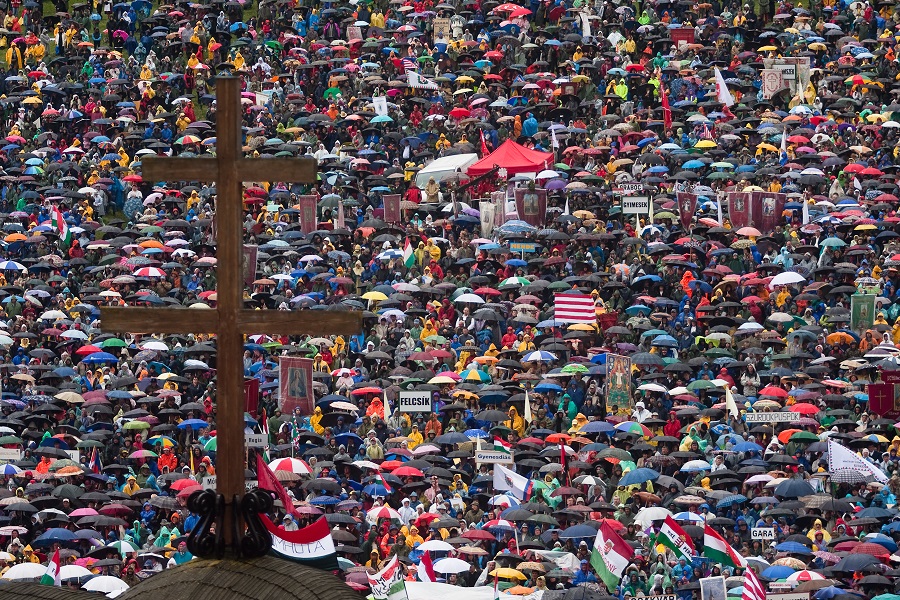 Short description:
The Pentecost Pilgrimage of Csíksomlyó is the largest religious and ritual event of Hungarian Christians and Catholics in the Carpathian Basin, an event in the area around the Franciscan monastery. The Csíksomlyó pilgrimage and the local sacred rites look back onto a history that goes back hundreds of years. Each year during Pentecost, tens of thousands of pilgrims flood the center of the Csík Basin and the roads that lead to Csíksomlyó. According to tradition the village-based groups called, in Hungarian, 'keresztalja' process to Csíksomlyó from villages all around the pilgrimage site carrying banners with images of their village's patron saint.
The Csangos (Hungarians from Moldova) appeared in Csíksomlyó in the 18th century. In the 19th century, thanks to the development of the roads and railway network more and more people has opportunity to take part in pilgrimage. After 1949, during Communism the authorities wanted to stop the pilgrimage with various methods. For this reason in that period there was no procession and the number of the pilgrims decreased as well. The revival period could have been started from 1990 by the participation of hundreds of thousands, not only from the Hungarian-speaking area, but also from other European and overseas countries. The respect for the Blessed Virgin Mary ("The Woman clothed with the Sun - Mulier amicta sole") also became rooted in the people of Csíksomlyó with the Franciscan settlement. It was custom to pay respects during the interim Marian feast days, and even members of the faith from neighboring towns would come to greet and worship the Blessed Mother. In 1444, Pope Eugenius IV encouraged members of the faith to continue to practice the ritual, and to offer indulgences to those who helped build the town church. The most important creation of the Pilgrimage Church is the statue that represents the Virgin Mary. This is Csíksomlyó's most valuable treasure, which some claim is the world's largest shrine, with its height of 2.27 meters. In 1798 it was recognized as miraculous by the Catholic Church.
---